WiPay Founder, Aldwyn Wayne: I Was Born in Business | Local company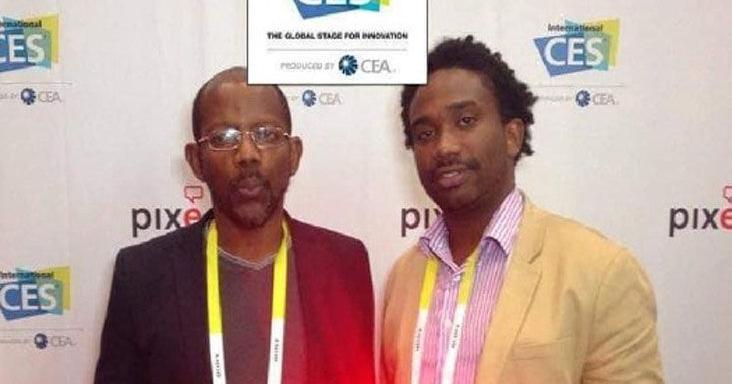 ALDWYN Wayne, Founder and CEO of WiPay, the region's largest payment company, started his first business venture when he was six years old at a private elementary school in Point Fortin.
In Standard 2, at St Catherine's Prep School in upscale Clifton Hill, Wayne earned his first silver by taking the blade of a pencil sharpener, shaving off the yellow coating of his classmates' pencils and replacing the paint on the shaved pencils with a rainbow of colors from markers.
"My classmates would bring their pencils to morning break and come back for them at noon. My cousin, Kirn Wayne, was my business partner. He would pick up the pencils and the money. I shaved the pencils and colored them. We used to charge $0.25 a pencil," said Wayne, who turns 40 in November.
"We ran this business for a whole term, until my parents were called to school because a classmate reported us. He was upset that his pencil colors weren't as bright as the others. He went home and complained to his mother," he told Express Business in an interview on Monday.
It was only then that school officials learned that the Wayne cousins ​​were running a business at the back of their class.
From this first venture, Wayne learned several life lessons, including the ability to spot unmet market demand, work in conjunction with a business partner, not show potential customers the process of turning pencils, and… to be able to execute business ideas to meet desires. of (most) customers.
"I was born into a family of entrepreneurs. My dad had Wayne's Electronics before me.
The solid business foundation came from working at his father's first business, located on the main road in Point Fortin, which was downstairs from the family residence.
"Growing up, literally, my fun time or my free time was downstairs in the business. As a result of this experience, I developed a particular appreciation and understanding of money management, as key to having a successful or unsuccessful business.
"I heard my dad drive this house many times growing up: you can't take money out of the business. The business may make $10,000 today, but the family didn't make $10,000. The company is an entity in its own right.
Working in the family business meant spending long "summer" vacations and Christmas holidays in the store.
He said the separation of the family business from family was hammered at him from an early age. He pointed out that many small businesses struggle because they view their money and the company's money as the same.
"That's one of the things with me right now. My whole goal for WiPay is inclusion, and I don't say that as a buzzword. If everyone had the same luck that I have had growing up in my dad's business, I think we would have a more equitable business society, but the fact is, the people who have those opportunities are the people who already have businesses," Wayne said.
His father, whose name is also Aldwyn, used to discuss business with the family "all the time".
He and his two siblings — an older brother, Aaron, who died recently, and a younger sister, Stacey-Ann, a child psychiatrist in New Jersey — would congregate in his parents' bedroom and the conversations would often revolve around the business. . All three Wayne children participated in these conversations from an early age.
"I remember when I was 10 or 11 years old, Dad would go on a business trip overseas to order stock for the company. He would let my brother and I run the business. "He always said there always has to be a Wayne in the business at all times. At that age, I remember being angry that someone who was two or three times my age wouldn't be not at work on time," the serial entrepreneur said.
When asked if Wayne's Electronics was a successful business, Wayne replied, "It still exists today. It's the number one electronics store in the south.
"This electronics company paid three kids to go to college; my sister and I went to schools in the United States and she went to medical school.
"We never had to worry about school fees or meals. We didn't have to work part-time during our university studies to pay the costs of a university abroad. We always knew the job would have been at Wayne's Electronics," he said.
"My dad would never allow us to think of ourselves as anything other than middle class," Wayne said, in response to a question about whether he would describe his upbringing as upper class. "It wasn't until I got into college and reminisced about my upbringing that I realized I had gone to a private prep school. We always had drivers to take us to school and lessons. And my mom gave me her Mazda 3 car when I was 16.
Adult businesses
After Point Fortin College, Wayne left his father's company at age 17 to attend Georgia College and State University to earn his undergraduate degree in computer science. He earned a graduate degree in computer and information science and support services from the Georgia Institute of Technology, a technology-focused college in Atlanta, Georgia, which is considered one of the best research universities in the United States.
After college, Wayne moved back in with his parents and worked for a year as a system administrator at Petrotrin.
"I picked up a lot of lazy habits there. My need to be creative and do new things wasn't being met, so I wanted to leave after the first week. But I honored my contract and stayed the whole year," Wayne said of his experience working at Petrotrin.
After Petrotrin, he started a three-person company called Powerline Communications T&T, which, among other things, sent broadband interconnectivity over power lines. The company also sent live video feeds and one of its first contracts was with Petrotrin, remotely monitoring its Trinmar offshore platform.
Powerline Communications has also secured contracts with the San Fernando City Corporation, Arima Borough Council and Angostura. Powerline Communications was also awarded a contract in 2008 by the Department of Works and Transport, then headed by current Finance Minister Colm Imbert, to install among the country's first CCTV cameras at the intersection of Churchill/Roosevelt and Solomon/Hochoy.
One day at this job, someone asked him who owned Powerline Communications. Wayne said he would never admit he owned the business.
"I was never the CEO, I was never the owner. I was always in charge of business development in every business I had until I was old enough to call myself CEO.
This reluctance to admit owning businesses, until very recently, was due to the fact that he is originally from southern Trinidad, he said.
"It's very difficult for companies from the South to come to the North because you're not in the same old boys' club as them. You did not go to the QRC or to Fatima. "I'm not going to give you that break because I have brothers who can do the same."
He went to explain that at the time it was not common for someone 23 or 24 years old to set up cameras for the government.
Wayne went on to found Cedros Cable Company, Sky Devices and Coldwater Ltd before he was 30.