Tronox donates LED projects to the local community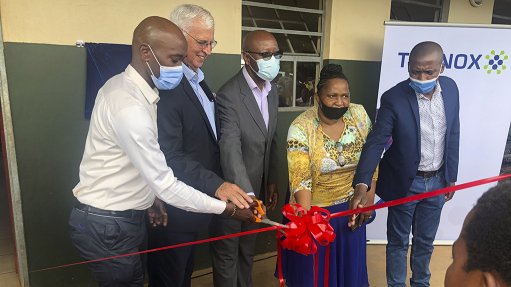 Mineral sands miner Tronox South Africa last week handed over four local economic development (LED) projects to local communities surrounding its Fairbreeze project near Richards Bay, KwaZulu-Natal.
Tronox and its partners have now completed 14 LED projects, all of which have been completed using local contractors, suppliers and workers whenever possible. The delivery of the projects – which represented more than R20 million in investment – has been delayed by the pandemic.
"It is long overdue. We would have liked to put these projects back in 2020 and 2021 but due to Covid-19 we were unable to do so," said Tronox South Africa MD Mpho Mothoa during the handover event at Gubhethuka Primary School in Dube Community, which Weekly mining attended by representatives from the Ministry of Mineral Resources and Energy, Ministry of Education, local government, local municipality and local community leaders.
Between 2018 and 2020, eight communities were invested in as part of Tronox's LED initiatives, benefiting the lives of approximately 342 people.
Tronox has built 29 classrooms in schools in seven communities. Four schools received fully equipped administrative blocks, while three schools received flush toilets. Homes have been built for 34 families by Tronox since 2018, while another 23 families will receive their homes over the next two years.
"We did this because we want to go beyond mining and beyond compliance. Our efforts are aimed at promoting the long-term interest not only of our employees, but also of local communities, business partners and our customers," Mothoa said.
PROJECTS
The four LED projects officially handed over on March 11 were Gubhethuka Primary School in Dube Community, Nsingweni Primary School in Nzuza Community, Thekelimfundo Primary School in Macambini Community and Mbuyiseni High School. in the community of Mkhwanazi.
The Gubhethuka Primary School project involved the construction of a new administrative block, which was completed in February last year.
The new computer center at Mbuyiseni High School was completed in January last year. New toilet blocks and a new administration building have been installed at Nsingweni Primary School, which was completed in March last year, while Thekelimfundo Primary School received a new kitchen and sports pitch – which is still under construction.
Other school LED projects included a new fence at Inkosi Zenzo Primary School in Madlebe Community and a new administration block at Qhamuka High School in Somopho Community.
Some of the other LED projects carried out by Tronox in the region included the provision of housing to local communities. The Umlalazi community received three new houses at the end of February and the Dube community received ten new houses at the end of August last year, while the KwaDube community also received ten houses at the end of December. The community of Mkhwanazi received five new houses for people with disabilities.
Tronox has also invested in the local Port Dunford bakery in the Mkhwanazi community by constructing stalls and supply lines for water tanks and a generator on site. The project was completed last November.
The Batshazwayo Nursery was also built in the KwaDube community and completed at the end of September last year.
Meanwhile, a veterinary clinic has been built in Madlankala area in Esikhaleni in Dube community. It was completed in November last year.