The cost of NTMs to an economy | Local company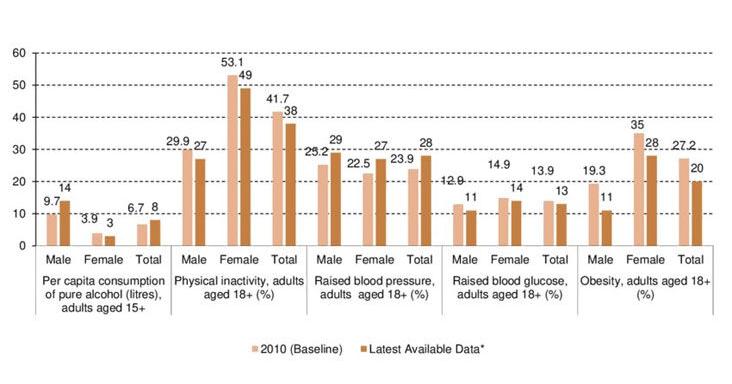 NON-COMMUNICABLE DISEASES (NCDs), or chronic conditions, are a group of conditions that are not passed from person to person and are mostly long-lasting and slowly progressing. NCDs include cardiovascular diseases, diabetes, cancers, chronic lower respiratory diseases, sickle cell disease, mental illnesses and injuries.
Over the past two years, the public has received daily updates on who has contracted and died from Covid-19, and it should be noted that the statistics included those with comorbidities. Comorbidity is a medical term that describes the existence of more than one disease or condition in the body at the same time. Comorbidities are usually long-term or chronic. They may or may not interact with each other.
Locally, there has been an alarming upward trend in diseases such as diabetes and hypertension among young people. Juvenile diabetes is on the rise and is strongly linked to poor eating habits and lack of exercise. Online schooling and prolonged closures have only exacerbated this situation.
With an abundance of locally grown fruits and vegetables, it is disconcerting that so much of what is produced is not enjoyed as widely as imported produce. The proliferation of pre-packaged convenience foods along with the availability of fast food on almost every street corner has also contributed to an unhealthy intake of saturated fats, sugar, salt and a host of preservatives, which have wrecked the system. immune and provoked NTM.
If one can argue in favor of cheaper food widely distributed to meet the demands of the population, the same is never true for moving towards food security. This is seen year after year when the Ministry of Agriculture receives what is perhaps the lowest allocation from the national budget. In stark contrast, the Department of Health receives one of the highest allocations to deal with what turns out to be an unhealthy population.
Statistics around the world show a direct correlation between rising public health care costs and rising NCD rates. NCDs are the leading causes of death and disability worldwide, killing more than three in five people worldwide and responsible for more than half of the global burden of disease. They cause and perpetuate poverty while impeding economic development in low- and middle-income countries. If they continue their upward trend, NTMs are estimated to cause a cumulative output loss of $47 trillion between 2011 and 2030.
NCDs have received greater attention around the world in recent years, such as when the United Nations General Assembly met to discuss NCDs in 2011 (only the second time it has met to discuss a specific health issue, the first being HIV), and finally called for new targets and an action plan to address NCDs. After reviewing progress in 2014, he convened a high-level meeting again in 2018.
NCDs have been identified as one of the major challenges for sustainable development in the 21st century. Long a concern in developed countries, they are now increasingly so in developing countries, given the influence of globalization on consumption patterns and the aging of populations. Global efforts (including here in Trinidad and Tobago) to address this growing health challenge have become more organized and larger.
The Latin America and Caribbean region has the highest number of sugar-sweetened beverage-related deaths in the world, with 80% of these deaths being associated with diabetes. The average per person consumption of sugary drinks or sugary drinks is also the highest in the world, and particularly in the Caribbean and Central America (respectively 1.93 and 1.61 average daily 8-ounce servings per adult, compared to 0.58 globally). Obesity levels are also higher in this region than in any other region of the world, which puts a large part of the population at increased risk of chronic disease. This has prompted policy makers in some territories to crack down on the junk food industry.
Trinidad and Tobago's business community has been actively engaged in developing strategies to mitigate the prevalence of NCDs in the region. T&T Chamber members began mobilizing government and non-state actors to develop and implement policies and actions to mitigate the impact of harmful consumption of sugar, salts, trans fats, alcohol and tobacco. In making this commitment, the private sector recognizes that the success of these efforts will depend on the full participation of all producers and in particular the entities involved in the retail sale of these products and the operators who interact directly with the consumer.
For example, Coca Cola's Caribbean Bottlers (CCCB) has "reduced sugar in a number of its beverages and offers many low-sugar or sugar-free products to consumers. Forty-five percent of its total product portfolio consists of zero to low sugar content."
Likewise, Nestlé has "refined its internal strategies, offering 100% juices with no added sugar and in some cases with vegetable juices, to encourage consumers to gradually switch to healthier drinks with no added sugar".
Furthermore, the West Indies Rum and Spirits Producers' Association (WIRSPA), which represents producers of alcoholic beverages, indicates that the rum industry is acutely aware of the impact of inappropriate consumption of a range of alcoholic beverages on individuals and society. They specifically endorse the interventions recommended by WHO, namely: public regulation of availability and advertising; strict drink-driving laws; application of the minimum age for purchase and consumption; sponsorship practices that limit promotion to minors; improve consumer information on the products they consume, including the harmful effects of alcohol; support for treatment and care, and for counseling services. The rum industry announced a major initiative in mid-2019 to improve labels in national and regional markets and improve consumer information
Other private sector companies take the issue of NCDs very seriously and have raised awareness through educational platforms and information dissemination. Companies have made commitments such as not advertising to children, supporting the use of front-of-package labeling (FOPL) which should be developed in close consultation with industry, reducing levels of sugar, trans fats and sodium, run marathons and evolve recipes in its manufacturing processes to promote a healthy lifestyle.
Much more needs to be done to improve people's health, which leads to better quality of life, reduces reliance on an overburdened public healthcare system and increases productivity levels. Developing holistic approaches to reducing non-communicable diseases will require ongoing dialogue and collaboration between the state, businesses, health practitioners and citizen groups. With our particular economic and social vulnerabilities, it is all the more important to ensure that our population is as healthy as possible. Committed to being good corporate citizens, members of the T&T Chamber continue to support efforts to reduce the incidence of non-communicable diseases in Trinidad and Tobago.
The Trinidad and Tobago Chamber of Commerce and Industry thanks Rima Mohammed (Chair of the Environment, Safety and Health Committee), in conjunction with the Trade and Business Development Unit, for contributing to this article.