The Chardon Chamber honors its members with annual business awards | local government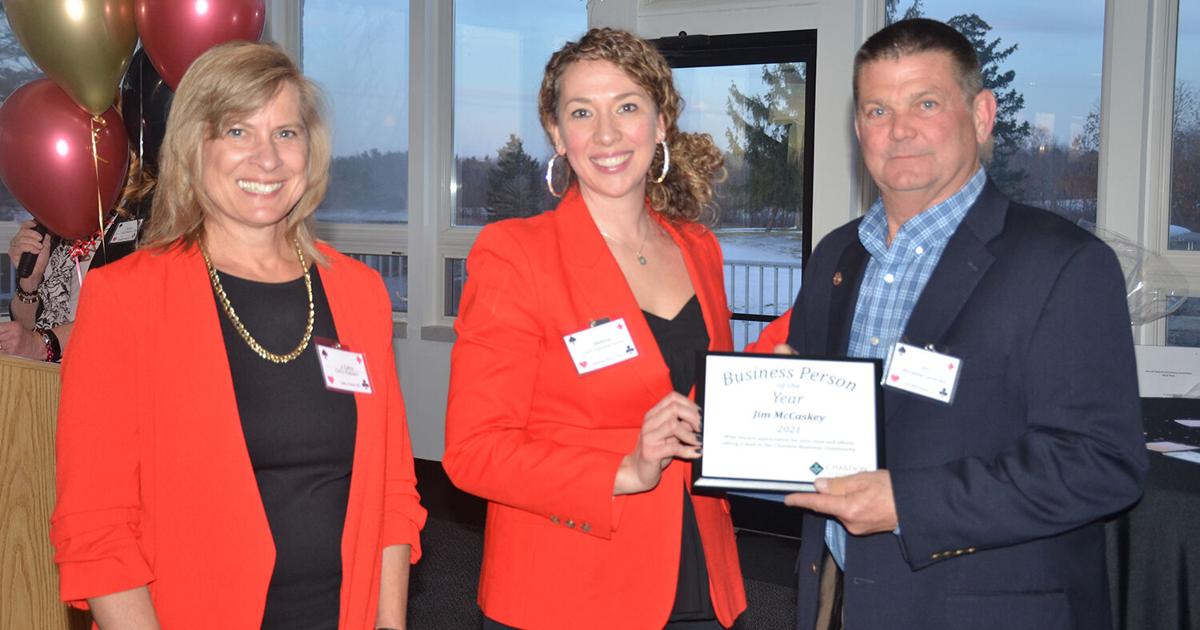 The Chardon Region Chamber of Commerce held its annual banquet awards ceremony Tuesday at the Saint-Denis Golf Club.
The event recognized the contributions of chamber member companies and the positive impact they have on the Chardon community.
"The awards ceremony is a gift back to our community and businesses and individuals who go the extra mile for the Chardon region should be recognized," explained Executive Director Melissa Ricco. "It's a feel-good event and also helps others learn about the initiatives these companies are undertaking and hopefully inspires others to do the same kind of work."
A total of 17 businesses opened their doors over the past year and five others have undergone major expansions or relocations, and the Chardon Chamber welcomed 35 new members this year and now has more than 260 members.
Walmart Supercenter, which opened its doors to a large crowd of shoppers in 2006 eager to see what the new retailer would bring to the community, received the Large Business of the Year award.
Board chair Catherine Peters, who presented the award, said Walmart employs many people from Chardon and outside, has made extensive building improvements and strives to be a more green and sustainable in the community.
"Walmart is an amazing donor and has provided items such as Easter Egg Hunt and Halloween candy and even created goody bags for our annual golf outing," Ms Peters said. "They have supported Chardon Square, our chamber, and many other nonprofits in our city."
Currently, Walmart employs 267 associates at the Chardon location and last year donated $87,701 to local community charities and community organizations.
Ms Peters said the big company cared deeply about its employees and offered fully paid tuition at four-year accredited institutions in the United States.
"They motivate and encourage the upward mobility of their employees and have many programs to facilitate retention and growth," Ms. Peters said. "Walmart continues to work hard to positively impact the Chardon area and welcomes the opportunity to partner with our civic organizations."
This year, Walmart will be a sponsor of the Easter egg hunt in the plaza and will also host the Ohio State Highway Patrol-sponsored can-the-cruiser event to gather non-perishable food items to help those in need.
Next, Chardon Area Chamber of Commerce President-elect Susan Parker presented the Small Business of the Year award to Rae Greaves of Polished Salon & Boutique.
"The Small Business of the Year is owned and operated by a woman whose family has lived in Chardon since the 1950s," said Ms. Parker. "Rae comes from three generations of Chardon High School graduates. Both her mother and father were teachers in the school system.
Ms. Greaves graduated from the Brown Aveda Institute with a full cosmetology license specializing in nail services and opened Polished Salon & Boutique LLC in May 2019 after completing extensive renovations at 111 South Street.
Ms Greaves is also a member of the non-profit Chardon Tomorrow and has worked on initiatives that help boost business in the Chardon area.
Other winners at the event include the Geauga Growth Partnership, which received the Organization of the Year award.
Founded in 2010, Geauga Growth Partnership was created as a private, not-for-profit economic development partnership, inspired by the neighboring Ashtabula Growth Partnership and the Greater Cleveland Partnership.
"The goal was to put in place programs and processes to enable business growth and prosperity and to build on the county's remarkable strengths," Ms Peters said. "With a vision to become the primary economic engine of Geauga County, the group fulfills its mission to improve Geauga County's business climate by attracting new businesses, supporting existing businesses and preparing the workforce of tomorrow."
With the impact of COVID, the GGP has been bringing together local economic development professionals since March 2020 to provide a collaborative and coordinated response to the needs of local businesses.
"This spirit of cooperation led the GGP Board of Directors to make a significant financial investment to develop a county-wide business retention and investment plan and toolkit on behalf of the community," said Ms. Peters.
The organization provides education and career preparation programs and services for local schools and students.
The Businessman of the Year award went to Jim McCaskey of McCaskey Landscape & Design.
Ms. Parker said Mr. McCaskey is the epitome of caring for his community, a very active member of many organizations, and he constantly gives back in so many ways through time, effort and resources.
"Being a member of state and national bands, Jim's heart is always with his hometown," Ms. Parker said. "He maintains active memberships to raise awareness and advocate for our small town."
Mr. McCaskey started his landscaping business from scratch in 2003 and he and his son Tim were ready to do whatever it took to get started.
"Jim had to make a lot of tough decisions for the company, but he always seems to make the right decisions based on his strong morals and core values," Ms Parker said. "He has enjoyed steady and consistent business growth over the past 19 years and has grown the business into a multi-million dollar business."
Ms. Peters said Jim encourages healthy competition with other business leaders and pushes them to also be active members in the community and encourages his employees to be active in their community and lives by the motto: "Work hard, play harder".
"Jim lives and breathes Chardon and Geauga County," Ms. Parker said. "Everything he does is for his community and his family, and he gives his all no matter what is asked of him."
Ms Parker also presented this year's Maple Leaf Community Impact Award to Mike Butt saying that among his many responsibilities and duties with the city, Mike can often be found volunteering throughout the year.
"Anyone who knows Mike can tell you he's a quiet man who doesn't brag or brag, which makes this honor all the more deserving," Ms Parker said. "It is with this positive attitude that he approaches and completes any task or challenge that is presented to him."
Ms Parker said his phone kept ringing for help, that he cared about the community and cared about the people.
"The word 'NO' doesn't exist in his vocabulary when it comes to the people around him," Ms Parker said. "Mike goes above and beyond to always lend a hand and he never asks for anything in return."
Also during the event, two $1,000 scholarships were awarded to Chardon high school students who are pursuing post-secondary studies.
"We raised over $2,000 for our scholarship fund," said Ricco. "It has allowed us to award two $1,000 scholarships in the last three years instead of just one in the last."
Ms Ricco said the money comes from the organization's 50-50 draws and member contributions.
Out of twelve applicants, they applied for the scholarships which were awarded to Charlotte Bennett and Zach Kalis of Chardon High School.
Ms Ricco said they were also delighted to bring Chardon magazine back.
"We would like to thank the Sorrow Valley Times/Solon Times/Geauga Times Courier, editor Kenneth Douthit and new editor David Gustafson for their work in developing the 2022 publication which will be sent to all imprint households. 44024."
In addition to the awards ceremony, the evening included a networking/cocktail hour, a 50/50 raffle and a sit-down dinner.