The agenda: briefs from local governments for 1.10.22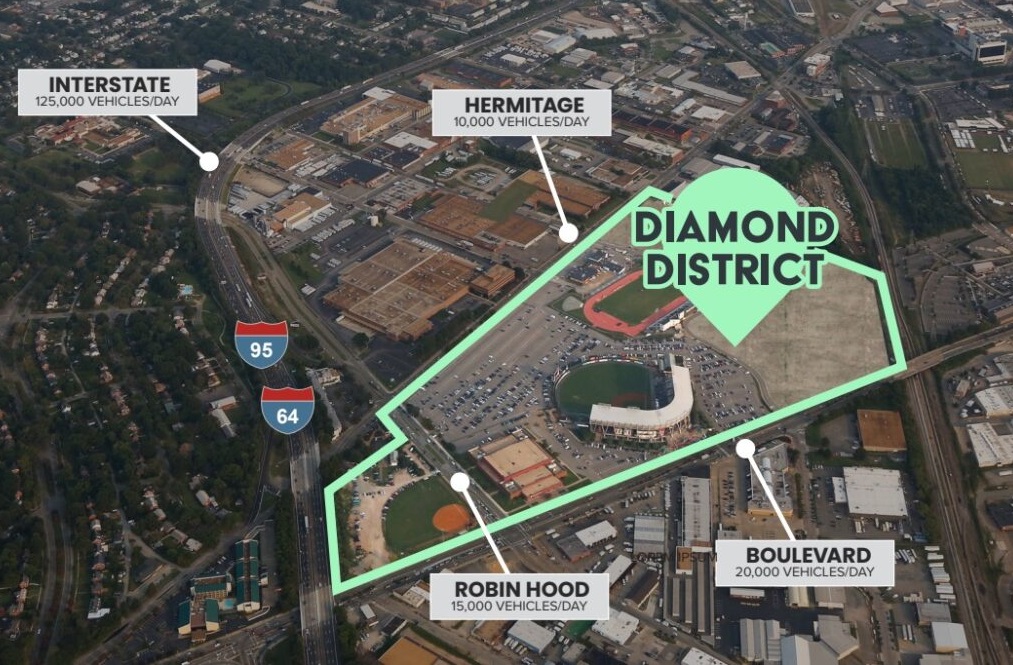 Diamond District land, Lee Circle gift on city council agenda
Richmond City Council meets on Monday starting with an informal session at 3 p.m. Business includes an update from Richmond Region Tourism, a presentation on "Rethinking Council Agencies" to improve government and municipal service budget presentations.
Business on the agenda for the 6:00 pm regular meeting includes a surplus designation for a 5 acre property at 3101 N. Arthur Ashe Blvd., which is expected to be included in the Diamond District redevelopment. The undeveloped land next to Interstate 64 includes a ball field, recycling site, and the century-old Westham Station building.
Special Use Authorization is requested for a mixed-use duplex conversion project at 3101-3105 E. Marshall St. in Church Hill. The proposal has already been submitted to council, but it was referred to the planning committee because a vote against the project did not take the form of an adopted recommendation. A subsequent committee vote ended up recommending approval.
Other business includes the acceptance of Lee Circle at 1700 Monument Ave. as a gift from the state. The 0.75 acre circle previously housed the Robert E. Lee monument and is valued at $ 1.1 million. The site is proposed to be used as an open public space. A separate article would declare a public need to remove Civil War monuments at 1900 Stuart Ave. and in Monroe Park.
Several agenda items are postponed to the January 24 meeting due to the cancellation of the Planning Commission meeting last week due to bad weather. Full board meeting agendas are available here.
City seeks comments on draft transit and mobility planning document
Richmond's Office of Equitable Transit and Mobility has completed a draft policy framework for Richmond Connects, a multimodal transportation planning process scheduled to begin in March. Titled "Path to Equity: Policy Guide for Richmond Connects," the plan is ready for public review following virtual and in-person community engagement last year.
The aim of the document is to provide a basis to guide the implementation of the next project-based transport plan, the city said in a statement. Once finalized, the framework will help prioritize needs and recommend transportation projects and programs for the City of Richmond Connects.
The public is invited to review and comment on the draft policy guide by January 31. The document can be viewed here. The public can also participate in a webinar on January 10 from 1 p.m. to 2 p.m. to learn more about the planning process. More information is available on the city's Path to Equity webpage.
Townhouse developments in Chester and Horner Park move forward
The Chesterfield County Planning Commission voted in late December to recommend approval of two proposals related to new townhouse developments.
Duke Quality Homes LLC plans to build 145 townhouses on a 32-acre site along Osborne Road and Interstate 95 in Chester. Of those townhouses, at least 110 of them would be subject to an age limit.
A proposal from Piedmont Venture LLC was also recommended to build 245 townhouses on a 164-acre site at 17501 Genito Road. The site is located in West Chesterfield, near Horner Park.
Both proposals are now heading to the office of the supervisory board, which will consider final approval.
Chesterfield supervisors choose Winslow as new chairman
The Chesterfield Board of Supervisors voted last week to make Supervisor Chris Winslow its chairman for 2022, taking over the leadership of the Board from Supervisor James Holland.
The Board of Directors also voted to make Supervisor Leslie Haley its Vice President for 2022. Winslow was Vice President in 2021.
At that meeting, the board also approved its meeting schedule for 2022, which can be viewed here.