Sweet Treats: Teen Entrepreneur Shares Chocolates at Pop-Up Shop | local government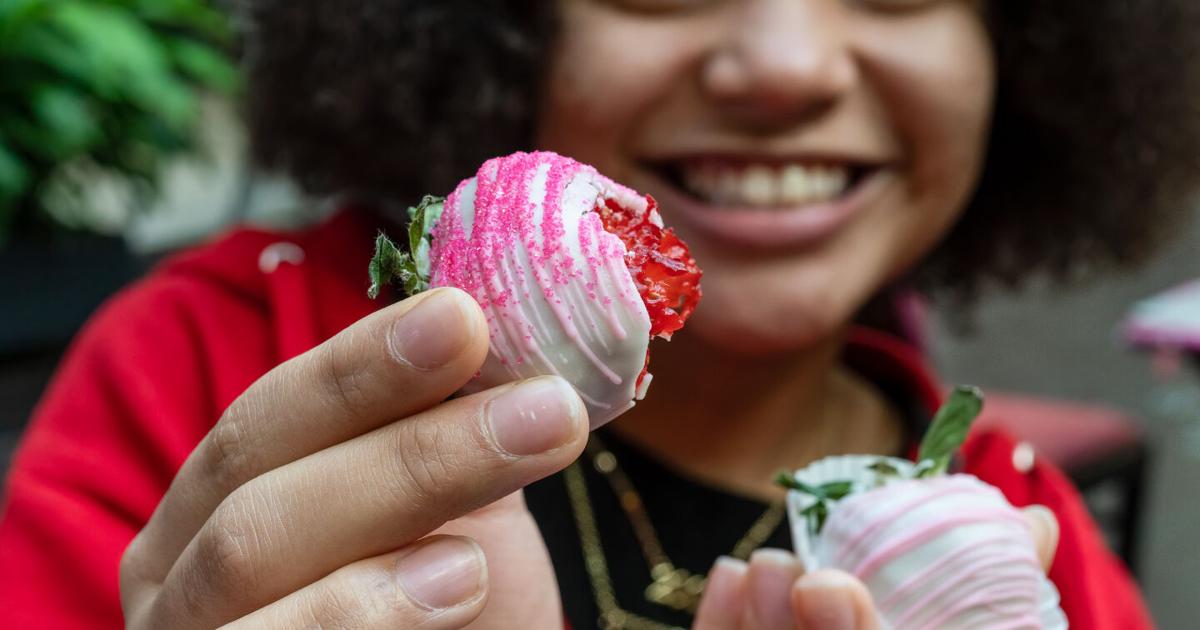 Sharrae Henderson is a real go-getter, according to her marketing teacher Lisa Simon. Sharrae started a business, Rae's Chocolates, at age 17 to provide fresh, tasty snacks to her community. A year later, Sharrae is gearing up for a pop-up shop on Eton Chagrin Boulevard ahead of Valentine's Day, her company's biggest holiday of the year.
Sharrae, 18, from Woodmere is a vegetarian. Strawberries are her favorite fruit and chocolate never disappoints. She is the only student in her class to have started a business, Ms. Simon said of her classes at the Business Academy, located in the Willoughby-Eastlake City school district.
"I like to make people happy," Sharrae said Monday. "When they say it's good, it warms my heart."
She is a strategic businesswoman. During her interview with The Times at Eton Chagrin Boulevard, Sharrae stopped to speak with a passerby who noticed her chocolate covered strawberries. Sharrae promoted her upcoming pop-up store in Eton from February 12-14.
Ms Simon said Sharrae had made significant progress in the business academy courses, which are housed at the Northern Career Institute in Eastlake, as part of the Excel TECC career readiness programme. Sharrae is also a senior at Orange High School, where she is a cheerleader for the football and basketball teams.
Ms. Simon teaches four courses at the business academy, including Introduction to Business, Business Management, Entrepreneurship and Marketing, each of which is one semester long. She said students learn how to create business and marketing plans, including pitching their product or service. Twelve districts are represented at the business academy, Ms Simon said, and she only accepts one applicant from Orange Schools.
"Sharrae has been really great in publicizing her business. She went to several farmers' markets," which Ms. Simon said were organized by Hunting Valley University School. "She also did a few on her own in Cleveland this summer and last year. She made pop-up shops. Business creation is not compulsory. She was the one going the extra mile.
Sharrae sells strawberries, oreos, pineapples, grapes, and chocolate-covered pretzels. It offers milk, dark and white chocolate. There are packages available for purchase as well as the option of custom orders, she said. Decorations match the season or holiday, such as red and pink for Valentine's Day and spring pastels for Mother's Day and Easter, the most popular holidays for her business.
Although Sharrae said she doesn't have much cooking or baking experience, she appreciates the creativity she can bring to her business. She described starting Rae's Chocolates as "an experience". She started selling to friends and family, but used social media to expand her range and find more customers.
"I wanted to increase my reach and Facebook really helped me," Sharrae said. "With social networks and marketing, I see how far I can go."
Sharrae's Instagram handle is @raeschocolates and her Facebook page is called Rae's Chocolates. Customers fill out a Google form to place their order.
Ms Simon said students learn a variety of skills in their business courses at the academy, including teamwork, leadership, communication, time management, project management and planning. She also teaches students to be philanthropic by helping fundraisers for United Way and other nonprofits.
"I help them build their resilience," Ms. Simon said. "We will tell them 'no' in life. They will encounter obstacles. They need to be able to bounce back and learn from it and be smarter and stronger.
Sharrae said patience is the most important trait as a young entrepreneur. It's also important to know your market, she says. Valentine's Day isn't just for couples, it applies to all loved ones.
"People buy it for themselves, their mothers and their sisters. It's mostly family-friendly and people enjoy it," Sharrae said. "Valentine's Day isn't just about couples. It's about families and whoever you love.
Her family also helps Sharrae succeed in her business. Sharrae taught her loved ones how to bake treats for her. They help her make the products and deliver them when Sharrae is busy with school and her two jobs at Olive Garden and Lifetime Fitness. Sharrae said she seeks out the best fresh strawberries, often found at Miles Farmers Market in Solon.
By supporting her business, Sharrae said customers get a quality product "without breaking the bank." A pack of 12 chocolate covered strawberries is $25 and 10 candies are $15.
Rae's Chocolates has also caught the attention of community stakeholders. ErieBank held its grand opening in November at Eton West End on Chagrin Boulevard. Mayor Ben Holbert said Christine Hartog, vice president of ErieBank, opened an account for Sharrae. The mayor gave Sharrae a personal donation of $100 at the groundbreaking for the bank. Mayor Holbert's action led to another donation from his schoolmate and local entrepreneur, Darrell McNair.
Mr. McNair is the CEO of MVP Plastics and a friend of Mayor Holbert. Since he uses ErieBank for his business, Mr. McNair attended the groundbreaking. He was inspired by the mayor's donation to Sharrae, so Mr McNair also pledged a $100 donation. Stark Enterprises also donated $300 to Rae's Chocolates.
"I like to see the joy in the eyes of young people when they start their business," he said. "Me too, I started when I was young. I did odd jobs like shoveling snow and cutting grass. Every entrepreneur has to start somewhere and this is their beginning.
Mr. McNair also offered mentorship and advice to Sharrae. He teaches students in the Cleveland Metropolitan School District and mentors young entrepreneurs through the Council of Presidents, a local organization for African American business owners. The council includes about 16 companies, Mr McNair said, but its associated chamber of commerce includes several hundred companies of all sizes.
Sharrae's pop-up shop will be on Eton Chagrin Boulevard in Woodmere from February 12-13 from 2-6pm and February 14 from 1-5pm.