Startup Old St. Louis Prepares New Downtown Tech District | Local company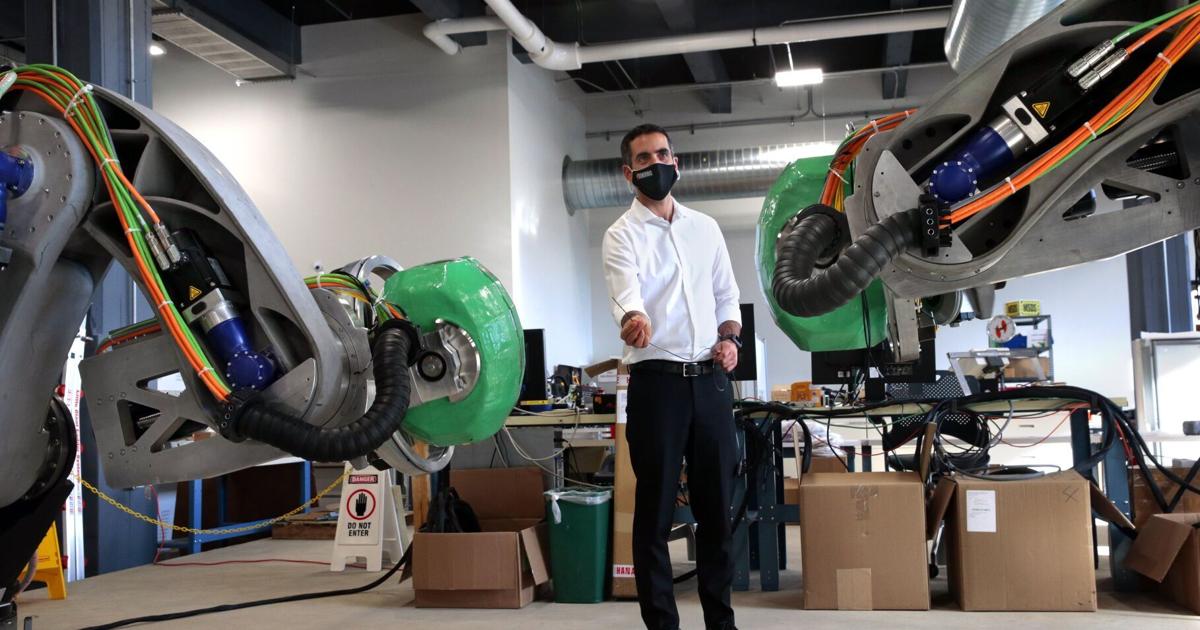 ST. LOUIS – Just a few years ago, Stereotaxis was on the verge of insolvency, losing millions of dollars a year and millions more in debt.
Now, the local medical device company is increasing its revenue, attracting investors, and moving out of its longtime home in the Cortex tech district. He expects his new space, at the Globe Building in downtown St. Louis, to more than triple his manufacturing capacity.
Stereotaxis CEO David Fischel said the new building is designed for collaboration.
"It can accommodate significant team growth," he said.
Stereotaxis cuts the ribbon for its new home on Wednesday. But this decision represents more than the success of Stereotaxis. The company was Cortex's first tenant in the early 2000s. Its move to the downtown Globe Building marks a key milestone for the new Downtown North Urban Insight Districtnorth of Washington Avenue.
The effort, led by entrepreneur Jim McKelvey and his StarWood band partner John Berglund, aims to capitalize on a swathe of momentum in St. Louis:
• The startup environment at the T-REX technology incubator on Washington Avenue.
• The growing geospatial industry here with the National Geospatial-Intelligence Agency's new western headquarters a few miles to the north.
And now the Downtown North neighborhood, which includes financial services company Block Inc., formerly known as Square.
The city center has struggled to attract business in recent decades as businesses have fled west or completely out of the area, and it has one of the highest office vacancy rates in the region. But it has had some recent wins: The PwC Pennant Building opened last year in Ballpark Village – the area's first new office building in more than 30 years. Local private equity firm Larson Capital Management opened an office at 100 North Broadway, three blocks north of Ballpark Village, last year.
The Globe has already attracted geospatial companies and recently secured Virginia-based Westway Services Group, a leading developer of compartmentalized sensitive information facilities, which allow government and business to process, manage or discuss information. classified or sensitive.
"The Globe's interiors blew me away," Berglund said. "They're as good as any tech space here in St Louis."
More details about the district, including its borders, will be revealed later this year, Berglund added.
Stereotaxis specializes in manufacturing technology for cardiac ablation procedures, one of the main categories of treatment for arrhythmia or irregular heartbeat. The procedure involves passing a long, flexible tube, called a catheter, through the heart and burning off parts of the heart muscle.
Founded in 1990, Stereotaxis became the first St. Louis biotech startup to file an initial public offering in 2004, but then fell on hard times. Its robotic systems were not in continuous use and in 2016, after racking up around $18 million in debt, Stereotaxis was delisted from the Nasdaq stock exchange.
Six months later, Fischel became the company's chairman and CEO. He led the company through the financial recovery, including its relisting on the New York Stock Exchange in 2019.
When COVID-19 hit, hospitals canceled elective care, slowing demand for Stereotaxis systems. The lags have improved, Fischel said during the company's quarterly earnings call on Thursday, but have not gone away.
"We don't necessarily know when the impacts of COVID will completely disappear in hospitals," he said.
And more recently, supply and labor shortages have slowed hospital construction projects, resulting in order delays.
Over the years, more and more hospitals have adopted Stereotaxis' robotic systems. Fischel said around 140,000 procedures have now been performed worldwide at 100 hospitals. And the technology has improved: the new models are more responsive, with less lag time between the doctor's command and the action of the catheter.
Stereotaxis spends more on research and development – 30% of its turnover last year. He aims to apply his technology to other procedures, such as the removal of blood clots.
The company has about 130 employees worldwide, including about 90 at the downtown headquarters, and hires dozens more.
It still does not bring in any money. Last year, losses reached more than $12 million. But revenue rose $8 million or nearly a third to $35 million on the year.
At his former home in Cortex, the company was split between the first and third floors, Fischel said. Now all of its employees, common areas and manufacturing area are in a loop on the ground floor of the Globe Building, facing Tucker Boulevard.
The company's new downtown location, Fischel said on the earnings call, "will serve as the foundation for many years of growth."