St. John's pushes local marketing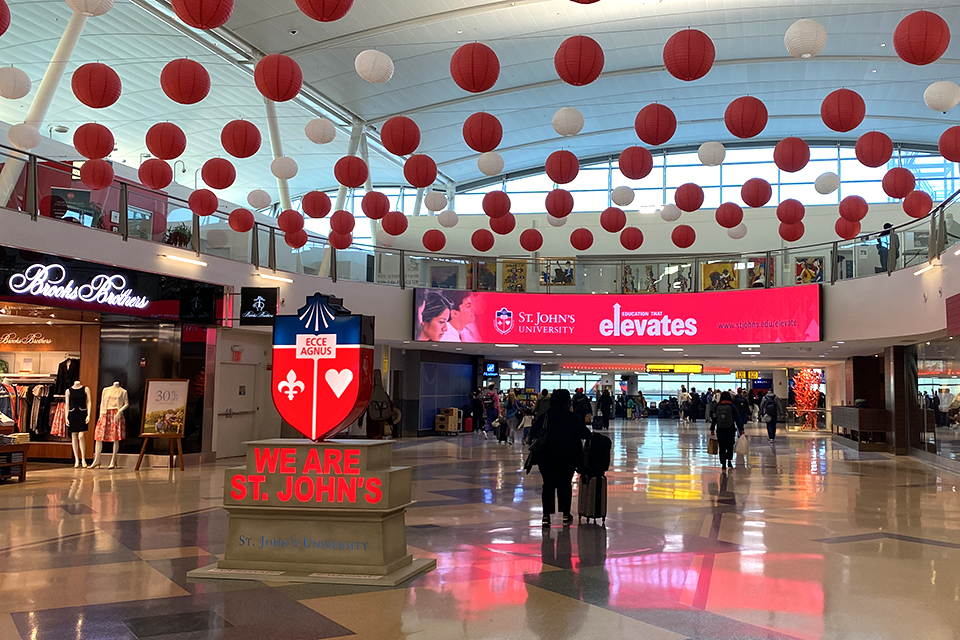 March 30, 2021
Expect to see advertisements for St. John's University flooding the media market throughout the metro area as the global university, which offers more than 100 undergraduate and graduate programs to a diverse student community, launches a major marketing campaign in the region.
"Education that Elevates" is the theme of a multi-year, multi-market brand campaign that aims to raise awareness of the University and promote the academic distinction of a St. John's education to multiple target audiences. It focuses specifically on residents and visitors to the five boroughs and Long Island, as more than 80% of St. John's 193,000 living alumni reside in the tri-state area.
"St. John's mission is to help students climb the ladder of success," said Reverend Brian J. Shanley, OP, president of St. John's. "For more than 150 years, the results of our students have demonstrated that our founding and enduring charge continues – and only grows stronger – with the University."
Outdoor advertising locations are strategically selected to reach travelers along some of New York's busiest and busiest roads and at transit hubs that attract commuters from Manhattan, NY to the tip of Montauk, NY, and in between. The campaign features a mix of ads, including a fleet of local depot bus sides, a full wrap of the ubiquitous Hampton Jitney, Long Island Railroad platform boards, high-impact digital and static billboards on critical local roads, and 30-second spots airing on local news and connected TV.
At the center of the campaign and reflecting the University's global reach is an eight-foot-tall, six-foot-wide statue of the St. John's University crest that appears in the terminal's display space 4 of John F. Kennedy International Airport (JFK). Work with Clear Channel Airportsthe University's Office of Marketing and Communications designed a light-up statue, built by ExpoDesign, which will be on display throughout the spring. It is a visible welcome to national and international travelers and a nod to the roots of the University which, for a century and a half, has served immigrants and their children.
"Our diverse students come not just from around the corner, but from all over the world, and they make a world of difference," said Simon G. Møller, Ph.D., Provost and Vice President of Academic Affairs, Emeritus Professor of the university and Chair endowed with provost.
JFK Airport is North America's busiest international air passenger gateway, the 20th busiest airport in the world, and the sixth busiest airport in the United States. The impressive exhibition space includes three large-format digital screens located at the entrance to Concourse B and above the escalator leading to the domestic arrivals area, and a busy space in the Delta Hub terminal, which includes 30 international carriers, next to world-class restaurants and shops. Near LaGuardia Airporta digital campaign using a synchronized network of 22 digital screens located in the walkways and above the baggage carousels throughout the arrivals area of ​​the central terminal is included.
The indoor/outdoor campaign is complemented by a mobile extension. To extend campaign impact and better deliver a unique brand message beyond the initial outdoor impression, each outdoor unit is geo-fenced to target passers-by's mobile devices. This addition allows the University to increase its reach and frequency while further diversifying its media mix.
Known locally as "Team New York", the University will build on previous athletic marketing partnerships ensuring brand advertisements will also appear in UBS Arena, home of the New York Islanders, and during New York City Football Club (NYCFC) home games at the Yankee. Stadium, CitiField and Red Bull Arena.
The combination of high-impact outdoor placements, striking experiential marketing units, frequency of mobile retargeting, and reach of local news and connected TV spots differentiates St. John's from its competitors and delivers an innovative campaign.