Rowley: megaprojects to increase gas production by 2028 | Local company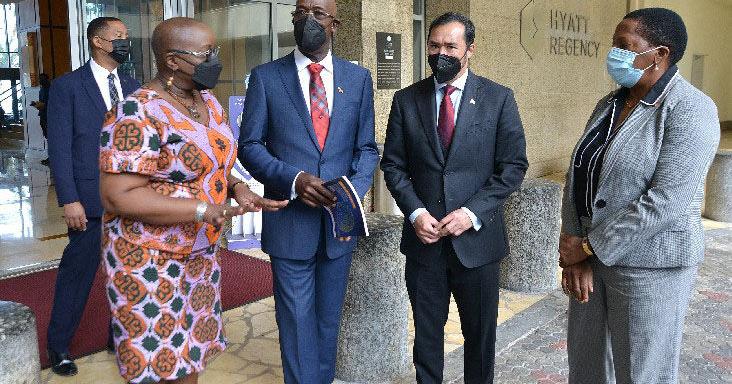 Prime Minister Dr Keith Rowley said natural gas production in Trinidad and Tobago will be tight for the period 2024 to 2027 but will improve by 2028.
Delivering the keynote address for the 2022 Trinidad and Tobago Energy Conference and Trade Show, he noted that with new generation coming on stream in 2022 and 2023, gas production is expected to rise from current levels. to 3.2 trillion cubic feet by 2024.
The event, organized by Energy Chamber of Trinidad and Tobago, kicked off yesterday at the Hyatt Regency, Wrightson Road, Port of Spain. The conference continues today and tomorrow.
"Gas supply between 2024 and 2027 will be tight before improving in 2028 with the commissioning of megaprojects, the Manatee and Calypso. However, the key to a sustained gas industry will be the exploration and development of our hydrocarbon resources as well as access to cross-border natural gas resources. Hence the aggressive bidding program," Rowley said.
He said his government had taken a pragmatic approach to the energy transition.
"We have assumed the dual responsibility of optimizing our hydrocarbon resources for the benefit of our citizens and taking steps to reduce our carbon footprint. In our estimation, there is no conflict between investing in renewables and hydrocarbons, because over time renewables can unlock oil and gas for export markets, and also create a mix diversified energy.
"However, for the foreseeable future, hydrocarbons and especially clean energy natural gas will continue to drive the T&T economy. The current outlook, driven by geopolitical events and energy security concerns, suggests that natural gas is increasingly seen not just as a low-carbon alternative, but as the fuel of choice," he said. declared.
Range of policies
Rowley said T&T's upstream stakeholders are aligned with the government's view.
"As a result, there is a commitment to commission a number of gas projects in both the shallow sea area and the deep sea area as soon as possible. These include the Shell Manatee Field and of the Calypso project which is being developed by BHP and bpTT," he said.
He noted that countries around the world have pledged to reduce carbon emissions by 2050.
"This commitment has been interpreted in some circles as a commitment to phase out all fossil fuels immediately. We do not share this point of view. Energy security is a priority for Trinidad and Tobago. Accordingly, we have put in place steps to optimize the exploitation of our oil and gas resources while mitigating greenhouse gas emissions and adopting low-carbon solutions.
To meet our commitment to climate change, we have adopted a series of policies that include electrification of the transport system, adaptation of renewable energy projects, carbon capture, use and storage, carbon offsets and we are actively exploring the promotion of a hydrogen economy," he said.
Carbon neutrality challenge
Rowley said T&T must build its energy future on a basis of realism.
"In short, we need to strengthen our current energy systems as we transform into one that is increasingly dependent on renewable energy sources. As we embrace this transition, it is important that going green is not only reliable but affordable. Greenflation or the associated rise in inflation has become a major concern as issues of climate and social sustainability rise to the top of the global climate change agenda. Accordingly, prudent climate change policies are needed to avoid or mitigate inflation propelled by the greening effort," he said.
He said that from a national perspective, the cost of Trinidad and Tobago's nationally determined contribution alone is approximately US$2 billion.
"As is the case with many developing countries, Trinidad and Tobago cannot achieve carbon neutrality without significant international financial assistance," he said.
He said the Central Bank of Trinidad and Tobago, through its membership in the Network for Greening the Financial System and other international collaborative agreements, will play a key role in financing the country's energy transition. towards a low-carbon economy.
He anticipates that hydrogen will play a role in the country's energy transition.
"Our hydrogen policy envisages the switch to hydrogen from renewable sources not only as a tool for decarbonisation but also as a raw material for industry and a form of alternative energy, once the economy recovers. will be developed," he said.
He noted that given the prominent role hydrogen is poised to play in the energy transition, there is an opportunity for industry players to embrace hydrogen in building a petrochemical industry. sustainable.
"To this end, the state-owned National Gas Company and its wholly-owned subsidiary National Energy, together with Kenesjay Green Ltd, are actively collaborating to create a sustainable hydrogen economy for the energy from Trinidad and Tobago. NGC was also instrumental in forming a new Point Lisas Energy Association (PLEA) Green Program Sub-Committee. The sub-committee will direct PLEA's sustainable development and green agenda actions, and coordinate synergies between member companies. It is this spirit of cooperation coupled with innovation that will enable the Point Lisas Industrial Estate to retain its relevance and status as a world-class industrial hub. An illustration of these features is the initiative led by Kenesjay Green Ltd and Hydrogène de France to establish the country's first industrial project to produce carbon-free hydrogen. Kenesjay and Hydrogène de France are to be commended for their ingenuity and it is hoped that other companies will follow," he said.
Rowley said developing economic cooperation in the energy sector is a priority on the government's agenda.
To this end, the government has signed unitization agreements with the government of Venezuela, the government of Barbados and the government of Grenada that will allow the exploration of hydrocarbon resources in the maritime borders shared with these countries.
He said that T&T has also signed a memorandum of understanding with the government of Guyana and also with the government of Haiti on energy cooperation. And in May 2020, the government signed a Memorandum of Intent with the Government of the Republic of Ghana on cooperation in the energy sector.
He said the Ministry of Energy and Power Industries is conducting a comprehensive review of T&T's oil and gas taxation regime to ensure T&T remains an internationally competitive hydrocarbon province.
"The review encompasses capital cost allowances, petroleum profits tax, supplemental petroleum tax and royalties, onshore and offshore, in shallow water and in deep water," he said.