Nanga obtains the post of president | Local company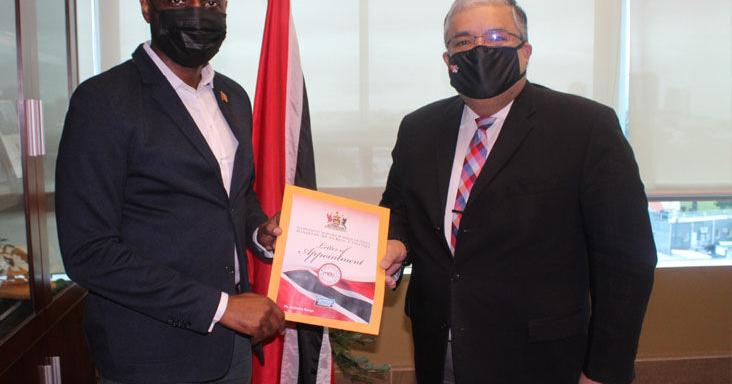 As the transformation of the Water and Sewerage Authority (WASA) begins, three members of the Board of Commissioners received their letters of appointment from Public Services Minister Marvin Gonzales yesterday.
A statement issued yesterday by the Ministry of Public Services (MPU) says Ravindra Nanga has received his letter of appointment, confirming his position as chairman of the board, while Acerson Wells has been appointed vice-chairman.
Alston Fournillier also became the most recently appointed Commissioner to the Council of Commissioners.
Nanga had served as Acting Chairman since July 2021 and the ministry noted that under his leadership the Board of Commissioners had made progress in preparing WASA for full-scale transformation into a water and sanitation authority. technology-driven wastewater.
Wells has over 40 years of experience as an engineer, mostly at the old Trintoc and Petrotrin.
He was also the General Manager of the Public Transport Service Corporation (PTSC) and a member of the Board of Directors of the Trinidad and Tobago Electricity Commission (T&TEC).
Fournillier is a licensed builder and surveyor, and the current President of the Plumbers Association of Trinidad and Tobago, a position that has allowed him to lead several initiatives that will positively impact critical elements of WASA's operations.
Gonzales thanked the new commissioners for their public service and support for the government's determined efforts to improve the water sector and provide citizens with a sustainable water supply.
While speaking at 'Conversations with the Prime Minister' at the Bon Air West Community Center on Tuesday evening, the Minister said that in two weeks time WASA will present its rationale for a fare increase to the Board of relegated industries (RIC).
"You can't run a utility company where you extract and treat water, it costs you over $2 billion to get water to people's homes and your rates are about $200 million and can't not even pay workers' wages," he said.
Gonzales said that between 2010 and today, the government subsidy to WASA was $23 billion.
The Minister, however, said WASA could not ask the people to pay more until its service levels improved.
Only then would a tariff increase be more palatable, he said, adding that WASA now had a model to transform the utility company.
Gonzales also announced that WASA would eliminate the need to turn on the taps.
He explained that "the man at the tap (who is in charge of opening the water to the network) is king at WASA".
Gonzales pointed out that sometimes when people call to say they have no water, it's not because there's no water, but because the tap forgets to turn on. valve.
"All of this would come to an end. We are going to digitize the operation of every valve in Trinidad and Tobago," he said.