Local Marketing Consultant, Golfer and NSPCC Charity Fundraiser Honored by Dame Esther Rantzen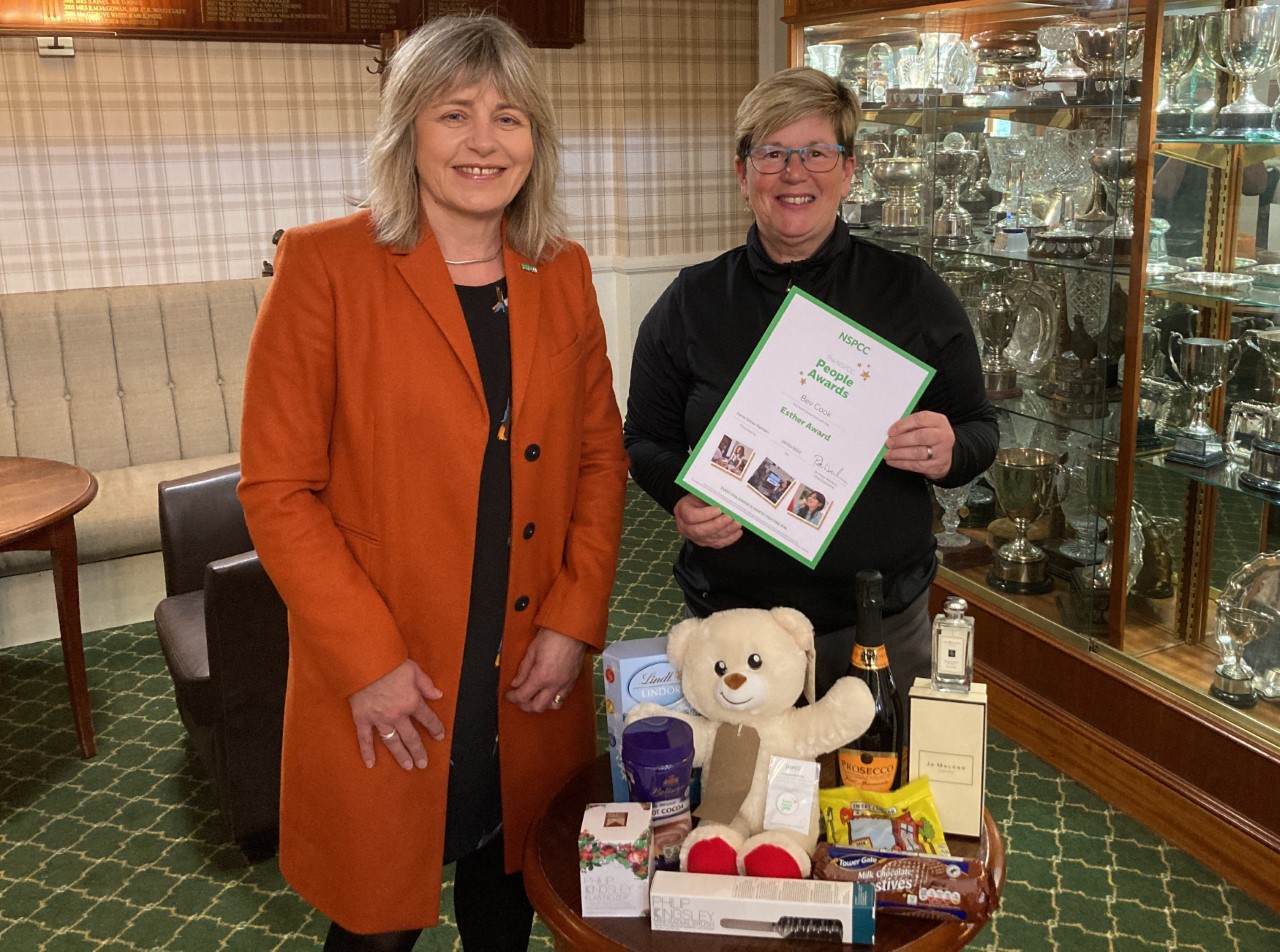 A local marketing consultant, golfer and charity fundraiser has received an award from Dame Esther Rantzen in recognition of raising over £5,000 for the NSPCC and an ongoing commitment to raising £50,000 for the NSPCC, and 100,000 £ in total.
The "Esther People Awards" are held every two years to recognize NSPCC fundraisers who demonstrate innovation and resourcefulness in their fundraising, especially in the face of adversity.
As the 2020 captain of Nottinghamshire Golf & Country Club, Bev hosted an event called the 'Three Bunkers Challenge'. Inspired by the infamous Tri-Peak Mountain Climbs, the event involves 24 golfers playing across three golf courses in Derby, Leicester and Nottingham in one day. The courses are Morley Hayes Golf Club, Charnwood Forest Golf Club and Nottinghamshire Golf & Country Club.
The event was originally scheduled to be held in 2020, but was delayed due to COVID restrictions. Undeterred, Bev, who is director of Simple Marketing Consultancy, based in Radcliffe on Trent, rearranged the event for 2021 and raised a total of £13,500 for her chosen charity called 'Big C Little C," which shares all the money raised from the challenge between the NSPCC and cancer research. In total, Bev has pledged to continue with the event until she has raised £100,000.
Commenting on winning the award, Bev said: "For personal reasons I have been a regular supporter of the NSPCC for over 30 years. Since then, I have encouraged all former employers to designate the NSPPC as the beneficiary of the charity events. Choosing them as one of my Lady Captain's charities was a no brainer and I am grateful to all the businesses and fellow golfers who have helped me raise funds.
Barbara Elsey, NSPCC Community Fundraising Manager, added: "Overall, over 300 people have been nominated for an NSPCC award and Dame Esther Rantzen decides the overall winner of the Esther People award. Bev won the Esther Award because her idea overcame the many restrictions presented by COVID and also provided NSPCC with a fantastic footprint for a novel idea that we hope other fundraisers enjoy hosting. It also helps the NSPCC to engage more with the business community. »
To make it more interesting, the team captain should record the number of bunkers his team's players enter and then subtract that number from their overall score. This rule underlies the reason for calling the event "The Challenge of the Three Bunkers".
The other five companies helping Bev reach her overall £100,000 goal are: business consultancy firm Mazars (Bob Johnson), Anthony James Insurance Brokers (Steve Boorman), Breeze Corporate Finance (Paul Bevan), MKM Building Supplies (Kate Tinsley), Fiscal Engineers (Colin Shaw and Gini Bolton), Breedon Electrical Services (Andrew Springhall) and business partner Elliot Cook.
If you would like to donate, visit this link. All funds raised will be shared 50% between the NSPCC and cancer research.