Hearing to Focus on Dismissal of Alaska Permanent Fund Leader | Local company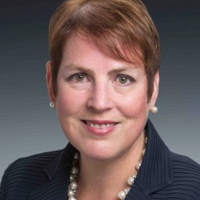 Inquiry hearings into the brutal termination of the Alaska Permanent Fund chief are expected to begin Jan. 17, with state lawmakers demanding all records related to his termination.
The Legislative Budget and Audit Committee is investigating who knew Angela Rodell's work was at stake, and when.
Senator Natasha von Imhof, who chairs the Legislative Budget and Audit Committee, sent two letters to the Alaska Permanent Fund Corp. last week. (APFC), asking the directors to hand over all communications about the performance and removal of Rodell, who ran the fund. since 2015.
"The dismissal was brutal and the APFC provided no explanation for its actions or a clear plan for a professional and timely leadership transition," von Imhof wrote on December 27. "Board actions threaten to send a message of leadership instability to FPAC during a time of global uncertainty.
The Legislative Committee ordered FPAC Chairman of the Board, Craig Richard, to take immediate action to preserve all documents, communications and information. The committee exercises statutory oversight over the APFC and its board of directors. The request is for information on laptops, smartphones, cell phones, voicemail, calendars, calendars and handwritten notes.
In a pair of letters, the legislative committee focused on communications from FPAC directors and employees with the administration of Governor Mike Dunleavy.
The committee also requests Rodell's employment record and contract, as well as communications with investment banks and fund managers "who have either raised concerns or praised Ms. Rodell's performance."
The problem is Rodell's dismissal on December 9 without an explanation. Rodell led the $ 80 billion investment fund through record growth.
The investment fund provides over 65% of the state's annual revenue. It pays for most government services and pays an annual dividend to each Alaskan.
Immediately after Rodell's impeachment last month, the board announced on FPAC's website that it was looking for a new executive director. But the directors declined to discuss the termination or the reasons for it.
"The people of Alaska should receive better answers for such a high-profile decision. Hiding behind employee confidentiality by refusing to provide any information or transparency regarding the process followed by the board, or its objectives and intentions, contradicts the guiding principles of the board set out on your website, "von Imhoff wrote to the directors.
More specifically, the Legislative Oversight Committee seeks answers to the following questions:
1. Who knew Rodell's job was "in question" before he was fired?
2. Is Rodell's termination in accordance with FPAC employment policies and practices?
3. Who was present at the board meeting when its termination was first discussed?
4. Who attended the private executive session on December 9 when Rodell's dismissal was approved by the board in a 5-1 vote?
5. What steps are underway to find a permanent replacement for Rodell?