Government Needs Progressive Action | Local company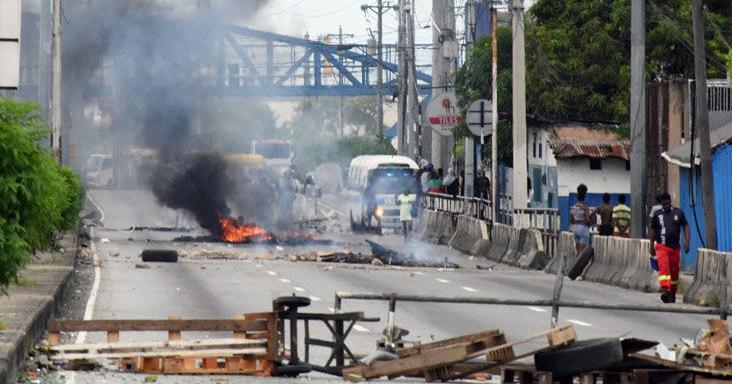 Business groups are expressing grave concern over the spike in crime, as well as protests that erupted in East Port of Spain on Monday, which they say may cause that country's economic growth to be stunted.
The president of the Chamber of Industry and Commerce of Chaguanas, Richie Sookhai, told the Express yesterday that the negative impact created by these scattered protests has not only disrupted the surrounding communities, but that the entire population would have been directly or indirectly affected.
Sookhai said authorities have failed to inspire confidence and hope in various communities across the country as evidenced by various marches and acts of unrest that are being seen.
"The government must take proactive and incremental steps to strengthen these institutions. Only then will trust and confidence be restored," he said.
Arguing that situations like Monday's protest have a direct impact on general economic activity, he said: 'For example, airlines are being forced to cancel several flights, and cargo entering and leaving the port of Port of Spain have been put on hold, creating more pressure on the business community to pay additional rental fees, salaries and transportation costs.
"In addition, these can have a negative impact on the confidence of local and foreign investors. This, coupled with escalating crime, will only discourage potential foreign direct investment and local expansion.
Out of control
The San Juan Business Association (SBJA), in a statement released yesterday, also said the association is seriously concerned not only about the escalation in crime, but also about why it has been allowed to spiral out of control.
"This country didn't get here overnight, and we can't get out overnight. We need a holistic approach to fighting crime, our institutions are broken and need to be fixed with a immediate action.
"Our police department cannot do it alone. The Judiciary, National Security, Office of the Director of Public Prosecutions (DPP), Office of the Attorney General, Education, Social Services, Customs and Immigration must all step in and urgently address their inefficiencies .
"The result of the inefficiencies of our state agencies is plainly visible today with utter disregard for law and order," the statement added.
And Greater San Fernando Chamber of Commerce President Kiran Singh said due to Monday's chaos, hundreds of thousands of dollars were lost as business access to Port of Spain was literally cut off. stopped.
"Lives lost can never come back. If we share the anguish of the families of the victims (three killed by the police), the country cannot be held to ransom by illegal activities.
"Residents' claims that innocent young people lost their lives in a shooting remain unresolved. The burden of proof rests with the Trinidad and Tobago Police Service (TTPS). They must demonstrate that their actions were justified. There is a legal channel through which the families can pursue the case," Singh said.
He noted that this country faces enormous economic challenges, adding that the solutions are not found through strong emotional reactions from those who vent their frustrations to the ignorant public where additional suffering occurs at the hands of the few. self-proclaimed.
"We had banks, government offices and private sector offices all closed within minutes of the protests over fears for personal safety. Where are we going as a country when so few, let alone, have been arrested for disturbing the peace, destroying public property without caring for accountability? Singh added.
Fyzabad House Speaker Angie Jairam also expressed concern, who said there was an urgent need for drastic intervention from security agencies and other law enforcement bodies. to quell further social and economic unrest at T&T.
Jairam said the huge increase in killings over the weekend was worrying.
"Reports of home invasions are on the rise, vehicle theft, domestic violence, school violence, and the increase and abuse of the elderly, is a sign of total weakness in the security system.
"The constant reports of cable theft in various regions with very little response and support from security agencies is a typical example of a breakdown in social and moral values ​​in our country," Jairam said.
And, Tobago Chamber of Commerce President Martin George, in a WhatsApp video to the media yesterday, said the chamber is very concerned about the crime problem that is engulfing the country.
George said the chamber looked forward to hearing what Prime Minister Dr Keith Rowley had to say on a crime-busting plan at Saturday's press conference, but was disappointed as Rowley decided to be combative with the journalists.
"The conference did not seem to address the pressing issues facing the nation. Crime is our biggest challenge, and we were hoping to see more durable and sufficiently strong proposals coming along. However, no concrete plan was given during the press conference," he lamented.
George questioned the Prime Minister's statement that the crime is a public health emergency. "How does this present itself as a solution? You declare the crime a public health emergency, but what does that do? The nation is looking for solutions, not an empty statement," he added.
George said safety and security are at risk, as is economic growth. "Businessmen and citizens are again saying that they are looking to migrate because of the crime situation.
"We, the chamber, once again pledge our support to help the government find appropriate solutions, but there has to be that vision of this administration to accept help," he said.