Food prices have increased by 9.7% in two years | Local company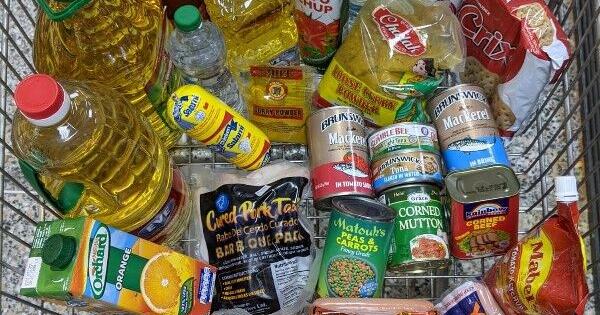 THE price of a basket of 118 basic food items increased by 9.7% between February 2020 and February 2022, according to a comprehensive assessment by the Consumer Division (CAD) of the Ministry of Trade and Industry (MTI ).
Word of the assessment came in an MTI press release yesterday which was titled "Government proactive in mitigating impact of rising global food prices".
MTI noted a statement released by the Caribbean Millers Association on March 25, 2022, which indicated that due to global factors, the cost of flour production in the region has been significantly impacted, with the price of raw materials having increased by more than 40%. .
The ministry pointed out that rising wheat prices will have a domino effect on the price of grain, animal feed, poultry and dairy products. And he said the two local flour producing houses were receiving stock and further shipments (at higher prices) were due to arrive. These companies will review over the next few months whether price increases may be necessary.
The ministry said its Consumer Affairs Division estimated that the price of flour at the local level increased by 16% over the period February 2020-February 2022.
"Other items that have increased over this period locally include vegetable oil and soybean oil (42%); corned beef (40%); poultry (29 percent); infant formula (26 percent); milk (20%); kidney beans (16%); salted fish (15%); rice (13%); and granulated sugar (11 percent).
The ministry said the following food items remained constant during the period from February 2020 to February 2022: powdered milk, biscuits, tea bags, mauby, baked beans, mayonnaise, dried pigeon peas, channa and salt.
The ministry also reported that over the two-year period, prices for some items fell, such as condensed milk (-8 percent); orange drink (-8 percent); green pigeon peas (-8%); peanut butter (-7 percent); brown sugar (-6.5%); onions (-5%); ketchup (-5 percent); tuna (-5%); potatoes (-4 percent); locally produced corn flakes (-5 percent) and coconut oil (-4 percent).
The ministry's statement said that one of the ways the problem of rising food prices was addressed was through the zero-rating of food products announced in the 2022 budget.
Among the zero-rated products were: vegetable/soybean oil; olive oil; coconut oil; canola oil; ghee; Peanut Butter; black pepper and other spices; cereals; condensed milk and milk substitutes; instant and ground coffee; black and green tea; orange and apple juice; bottled water; seasoned meat and pigtail; canned sausages, tuna, mackerel, peas, beans, corn and mixed vegetables; mayonnaise, ketchup, roti skin, packaged soups, soy chunks and mince; ground dhal; cheese slices; table butter; slices of ham and turkey; chicken meats for lunch; bologna and cookies and crackers.
Reduced taxes and duties
The government also continued to suspend the Common External Tariff (CET) on a list of more than 20 basic food items. These items include salted fish and canned fish, apple juice, cheddar cheese, canned corned beef, milk and cream, refined sugar, infant formula, and soybeans and other types of oil for cooking. This initiative will help keep these items affordable for consumers.
The CET was removed from these articles in January.
Food inflation is global
In its statement, MTI noted that food prices have risen globally due to a myriad of factors, including: continued disruptions to global supply chains due to the Covid-19 pandemic; the Russian-Ukrainian conflict; increases in shipping, logistics and freight costs; rising fertilizer and energy prices and adverse weather conditions.
The ministry referred to the Food Price Index (FPI) of the United Nations Food and Agriculture Organization (UNFAO), which tracks international prices of various food items such as grains, meat , vegetable oils, dairy products and sugar.
The FAO index rose from an average of 98.1 basis points in 2020 to 140.7 basis points in February 2022, an increase of 43% over this period.