First Citizens APO oversubscribed by 55.15% | Local company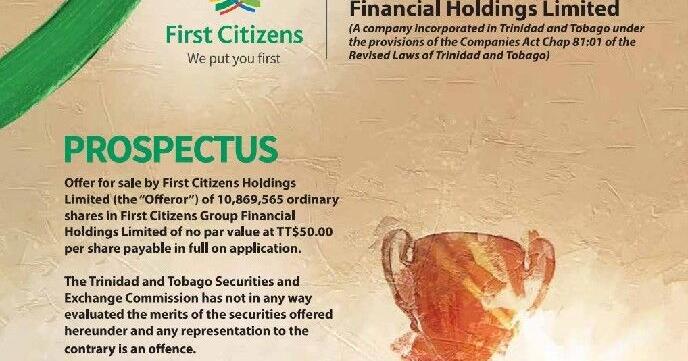 First Citizens' Additional Public Offering of Shares (APO) was oversubscribed by 55.15%, but all persons who applied for shares under the offering will receive 100% of the shares for which they subscribed.
The information on the subscription and allotment of shares in APO was provided in a notice to the Trinidad and Tobago Stock Exchange issued yesterday by the majority state-owned bank.
The notice said the takeover bid was heavily oversubscribed, attracting demands for a total of 16,865,007 common shares worth $843,250,350. In the APO, 10,869,565 shares were available at a price of $50 per share, which was expected to generate gross proceeds of $543.47 million.
Individuals applied for 5,364,614 shares in the APO, or 49.35% of the 10,869,565 First Citizens shares offered for sale.
The First Citizens employee share plan requested 800,000 shares and received 100% of its subscription.
Registered mutual funds, including the Unit Trust Corporation, applied for 1,200,497 shares in the APO and also received 100% of their subscriptions.
But all other categories of applicants received fewer shares than they requested:
• Registered pension plans and other trust funds, credit unions, cooperatives and National Enterprises Ltd applied for 1,874,019 shares. Each successful applicant received 30.03% of their application;
• The T&T National Insurance Council and other national insurance schemes in other countries applied for 1,086,957 shares. Each successful applicant received 60.39% of their application;
• Other companies applied for 543,478 shares. Each successful applicant received 37.25% of their application.
APO shares are expected to transfer to investors' accounts today (August 30, 2022), according to the advice of First Citizens. If the shares are transferred today, successful subscribers will be entitled to receive the bank's interim dividend of $0.40 per share for its second quarter.
Yesterday's notice also indicated that certain multiple requests had been rejected at the sole and absolute discretion of the offeror, Corporation Sole.
The applications were considered as multiple applications:
1) If the applicant's name appears on more than one application, whether individual or joint, and whether submitted directly by the applicant or through an agent acting on his or her behalf, or
2) If the applicant is also a shareholder of a non-public company, when the company is also an applicant.
"In the event of multiple submissions, the first submission, by date and time, for the Applicant which has been fully processed has been accepted and all other multiple submissions have been rejected in the sole and absolute discretion of the Offeror" , according to the opinion. .