Faria plans to continue her advocacy | Local company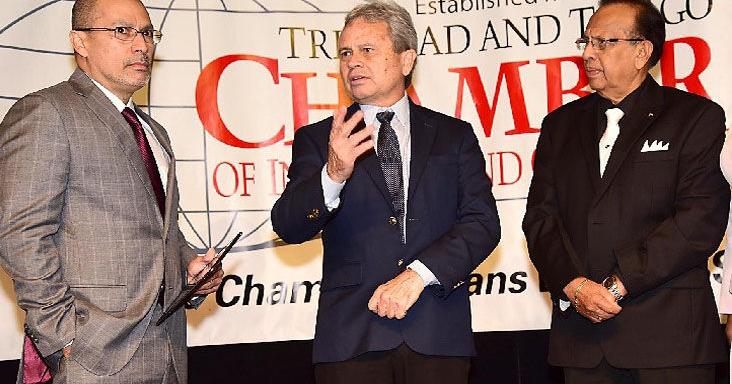 FOLLOWING his retirement as Chief Executive of the Trinidad and Tobago Chamber of Commerce and Industry last month, advocacy for the voiceless in business is still at the forefront of the reflection of Gabriel Faria.
That's why he formed a group called Caribbean Advocacy, to help navigate some of the issues faced by small and medium-sized businesses in the region.
Faria's last day as CEO of the T&T Chamber, where he spent more than five years, was January 31. He has since been replaced by Ian De Souza.
The Chamber, in a statement released last week, paid tribute to Faria, saying his belief has always been that "a strong private sector is the foundation of a prosperous and equitable T&T."
The Chamber said Faria's tenure witnessed an intensification of advocacy efforts with the T&T government, policy makers and legislators, to whom he brought his own unique style to negotiate changes in business facilitation and in the ease of doing business.
In a candid interview with Express Business last week, the managing director of Caribbean Advocacy said he sees a great need to continue representing businesses, especially for the hundreds of legitimate small businesses.
"I have decided that I cannot be an irresponsible leader and will therefore keep these matters active until they are resolved and my other regional retired counterparts have agreed to form this advocacy group."
Faria said members and administrators of the group will remain confidential as they fear being victimized when speaking out on various issues affecting the community.
"I do this strictly on a voluntary basis, not for profit. This is my way of being a responsible citizen and there are many other chefs who would like to contribute within the region to help the different sectors succeed," he said.
Faria, who has worked at CEO level at companies such as Angostura and Guardian Media, noted that Caribbean Advocacy has not yet been registered as the mechanisms are still being worked out.
"It's multi-country, so we're working on the best solutions for that. It will be a network and not a formal business entity. One of the prerequisites for businesses to join is that they must be registered for tax purposes and employees must be registered with the NIS. We want to encourage people to comply.
Asked how this new entity would be funded, he said they were hoping to get sponsors from advocacy groups to fund it, as the work it would do is voluntary and is designed to give back to society.
"We will not be competing with chambers or other Caribbean groups as they represent larger companies. We do not want people to become members of this group because they belong to another association. The reason this was formed is that many companies do not have representation and we need to give a voice to people who do not have the financial resources to do so," he remarked.
Need for transparency
Faria stressed the need for continued and strong advocacy on transparency in government.
"Campaign finance and public procurement regulation are just two areas the government avoids dealing with and much more. This does not hold the people we elect to the highest standards.
One issue he championed while the chamber's CEO was VAT refunds for business owners, which has still not been settled.
"When I raised this issue in 2017, more than one minister said it wasn't true, but in 2019 they admitted over $6.2 billion was owed in overdue refunds. latest news, $3.7 billion was paid out in 2020, but we were promised overdue VAT refunds would be paid and the scheme would be in place in the future.
"Then there are tax refunds and amounts owed to suppliers. There is also the issue of interest due on VAT refunds, which by my calculations is $744 million per year (12%) and if the average of refunds overdue is three years, that means that, by law, the government owes about an additional $2.1 billion in interest. When will this be paid?
He said the government is living beyond its means by not paying the amounts legally owed to businesses and citizens for years, while some businesses are shutting down because they don't have the money to fund. their operations.
"The final option may be for owed companies to take "representative action" to recover funds owed to them. In fact, a government official said to me in front of another person, 'Sue me no,'" Faria laughed.
Another area that is having a debilitating impact on business, he said, is significant delays in clearing customs shipments by air or ocean freight. This increases the cost of imports and reduces the competitiveness of all companies in the country.
Faria said this needs to be addressed because these types of actions slow down the economy.
"We talk about the ease of doing business, but we have to do it right. Ultimately, we want to attract investors, not scare them away. To this day, currency exchange continues to be a problem and many companies have complained that they do not even receive half of what is needed to clear their goods.
He said a column written by Terrence Farrell in 2011 titled "Our Irresponsible Elites" resonated with him.
The column read: "The irresponsible person does not really know or understand what his responsibility is, or if he knows what it is, does not know how to discharge that responsibility in the given circumstances."
"We need leaders made up of people who will ask themselves at all times, 'What does responsibility require of me in this situation?' – and who will then take principled action until its consequences, whatever they are and whatever the personal cost," the column writes. underline.
Ongoing negotiations
He said there are too many unsettled wage negotiations or payments due for negotiations that have been agreed but not paid.
"In some cases, it goes back nine years. How many billions of dollars is this unrecognized liability? »
Faria recommends that the government have an obligation to provide clear measures to assess the promises they have made and the obligations they have through a performance report which should be published quarterly.
He said some of the areas of the performance report are:
– Aged balances broken down by month indicating the amounts paid for each area: VAT refunds, tax refunds, amounts due to suppliers.
-The average, median and longest time it takes to clear shipments in each zone.
-A list of all outstanding labor agreements, potential financial cost, and quarterly settlements and payments.
Organic
Gabriel Faria was born in Scarborough Tobago where his family owned a guesthouse.
He then moved to Trinidad and lived on Besson Street (behind the bridge) where his parents had a cafe/grocery store.
"We have maintained property in Tobago and so far I have maintained a house in Tobago," he said.
Faria went to Bethlehem Boys' RC School and then Queen's Royal College. After working for seven years, he went to college to complete his Masters in Business Administration.