Council reaffirms commitment to gender equality in local government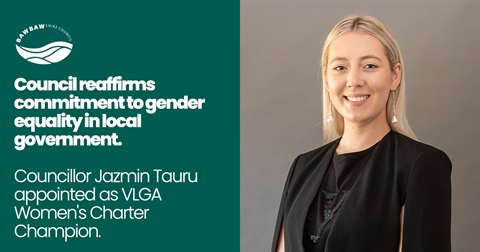 Baw Baw Shire Council has reaffirmed its commitment to the Victoria Local Government Women's Charter and to advancing the Council's efforts to increase women's participation in key decision-making forums in Victoria's local government.
At the Wednesday, August 24, council meeting, the council passed a motion to reaffirm its position as a signatory to the charter and moved to appoint Central Ward Councilor Jazmin Tauru as a Women's Charter Champion. of the VLGA alongside Council Officer Champion Dean Sutton, the Council's Connected Communities Manager.
To identify and work towards equal participation of women and men in key decision-making positions in local government, a group of local government agencies came together to form the Coalition for Women in Local Government (WPILGC) in 1997.
In 2013, as work for gender equity in local government gained support, the Coalition disbanded and the action is now led by the Municipal Association of Victoria (MAV) and the Association of Victoria Local Governance (VLGA)
Today, MAV and VLGA secured 74 Victorian Council signatures to the Charter, in their efforts to address the continued under-representation of women as councilors and in leadership positions in local government, and to empower and actively encourage women to seek these positions. .
The Council first joined the VLGA Women's Charter on September 24, 2008 and has continued its efforts to promote gender equality in the workplace.
In June this year, the Board's Gender Equality Action Plan was endorsed by the Gender Equality Commission and is mainstreamed into the organization's operations and policy framework.
Citation attributable to Mayor Cr Michael Leaney
"On behalf of Council, we are pleased to reaffirm our commitment to the Victorian Local Government Women's Charter.
Through the work of the VLGA, we are taking steps in the right direction towards gender equality for all.
Citation attributable to Deputy Mayor Cr Annemarie McCabe
"The Victorian Government's 'Safe and Strong' gender equality strategy identifies a target of 50% female councilors by 2025 – this will require a concerted effort from key bodies, councils and communities, supported by the Victorian Government. State.
It is important that we continually raise awareness and strive for gender equality. It is at the heart of a just and inclusive society. Reaffirming our commitment to the charter, we will continue to promote and address the work that remains to be done to improve gender equality outcomes for men and women at Baw Baw Shire. »
Quote attributable to Jazmin Tauru, Central Ward Councilor and VLGA Women's Charter Champion
"I am here to champion gender equality and welcome the opportunity to represent the Baw Baw Shire Council as a VLGA Women's Charter Champion.
We all need to make sure we broaden our scope and apply a gender lens to all the work we do to ensure that we truly reflect our whole community and its health and well-being.
I look forward to my continued participation in the VLGA Women's Charter and hope to see real change happen in the local government sector.
/Public release. This material from the original organization/authors may be ad hoc in nature, edited for clarity, style and length. The views and opinions expressed are those of the author or authors. See in full here.