Cornerstone looking to raise Ja$6b | Local company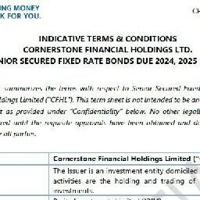 CORNERSTONE Financial Holdings Ltd, the Jamaican investment firm that has developed a close relationship with majority-holding First Citizens, is seeking to raise J$6 billion (TT$269 million) in the Jamaican capital market as part of a a private broadcast.
The term sheet of the bond issue, which is confidential, indicates that Cornerstone is seeking to raise the formerly $6 billion of senior secured fixed rate bonds in three tranches:
• Tranche I — for J$2.5 billion over two years, with an interest rate of 8.5%, twice a year;
• Tranche II — for J$2 billion over three years, with an interest rate of 9%; and
• Tranche III — for J$1.5 billion over five years, with an interest rate of 9.75%.
The net proceeds from the bond issue will be used to refinance Cornerstone Financial's existing debt, for general working capital purposes and to pay transaction-related costs, according to the indicative term sheet, which has been posted available to the Trinidad Express on Monday.
The subscription period for the bonds is from June 13 to 27 and the issue date is set for June 28.
The bonds will be secured by collateral consisting of shares held by Cornerstone Financial Holdings in the Jamaican company Barita Investments Ltd. financial instruments for the period ended March 31, 2022. Barita Investments is also listed as the arranger of the bond
Cornerstone's stake in Barita Investments was worth J$78.96 billion (US$521 million, TT$3.54 billion) yesterday, the day the stock went ex-dividend.
First Citizens Investment Services, a wholly owned subsidiary of holding company First Citizens, is the second largest shareholder of Barita Investments with a 7.44% stake worth TT$353.90 million.
According to the term sheet, the bond guarantee will be based on a minimum coverage of 1.75 times the bond principal amount of J$6 billion and the maintenance margin will be 1.50 times.
The bonds will also be secured by a pledge from the Central Securities Depository of Jamaica over the shares of Barita Investments pledged by Cornerstone Financial.
The term sheet makes it clear that Cornerstone, the issuer, "does not intend to seek a listing of the Bonds on the Jamaica Stock Exchange or any other stock exchange." Accordingly, there can be no assurance as to the development or liquidity of a market for the bonds."
In a press release in March, Cornerstone Financial confirmed that the majority state-owned First Citizens had extended credit to the private Jamaican company for US$60.1 million, comprising three loans:
1) First Citizens extended a US$25 million revolving line of credit with a maturity date of April 27, 2023;
2) First Citizens extended a US$20 million revolving line of credit, which matures on February 9, 2025;
3) The third facility is a US$15.1 million revolving line of credit with a maturity date of July 6, 2024.
First Citizens' loans to Cornerstone are also secured by the Jamaican company's shares in Barita Investments.
Finance Minister Colm Imbert announced in his Budget 2022 speech last October that the T&T government is proposing to offer 10,869,565 First Citizens shares for sale in an additional public offering of shares to the during the current fiscal year.