Bad roads cause Moruga chicken farm to close | Local company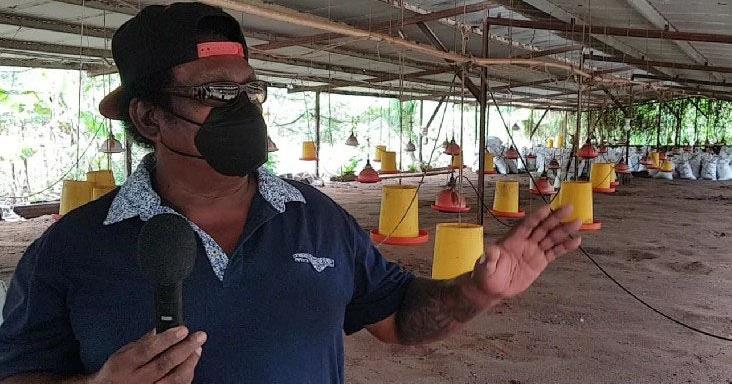 Poultry farmers in Moruga blame the water leaks on the poor state of the road, which led to the closure of their 20-year-old business.
Franklyn and Joanne Mohammed said delivery trucks refused to drive through a major landslide at Harper Trace, off Weston Trace, in the village of St Mary, which kept them from getting, for almost three months, birds and food needed to operate. Their business.
"I sold and was supposed to have more chicken, and when they came to bring the chicken the truck couldn't pass, so they took the food and the chicks back," Franklyn Mohammed said.
His wife added: "We need to get 200 sacks of food, an estimate of around 20,000 pounds, and for that to pass we need WASA (Water and Sewerage Authority) to fix the road… C t is a collaboration of two entities, WASA and the Regional Company (Princes Town). If WASA does not repair the road, the regional company will not give us the materials for the road to open our farm. »
The couple said it was their only form of income and their savings were running out. Their four employees in the region also lost their jobs.
The Mohammeds added that apart from their place of work, their house and their son's house were also damaged due to the situation.
Joanne Mohammed said WASA would fix the leaks, but they would happen again a few days later. "When water leaks from the pipe, it saturates the road and the road deteriorates…If the water arrives, it leaks and is wasted on the side of the road, leaving residents without a supply."
About 120 people from 30 households have been affected by the situation, which has been going on for about two years.
She said older people who have to haul groceries about a quarter mile from a major landslide in their homes are affected. School children are also inconvenienced and emergency vehicles will not come to the area.
Sally Rackbir, who owns a shop in the area, said she had to make multiple trips to transport goods when delivery vans unloaded items during the landslide.
"I have to close to come here to pick up the van. I have to sit and wait sometimes in the hot sun or in the rain. I have to wait here, then I have to take it to my living room and it's very hard… It's two, three vans for the day.
Joanne Mohammed said: "It's very painful. In 2022 you are doing like the donkey style of years ago, where you have to carry your load on your back or on your head. It was overwhelming.
Residents gathered on Wednesday and used their own equipment to repair the area to allow a patient from the area to attend his appointment at the clinic.
Joanne Mohammed explained that if this had not been done, the man would have had to be transported to the other side.
Area MP Michelle Benjamin said she had written to both WASA and local government minister Kazim Hosein about the issue. "I sent the first correspondence in November when I made a personal site visit with a WASA supervisor."
WASA's senior director of corporate communications, Daniel Plenty, said the Authority continues to experience challenges with the movement of land along various parts of Weston Trace, which has resulted in several leaks at different times.
He said three leaks along Weston Trace were repaired on February 2 and 4.
"Currently there is a minor outstanding leak between LP 75-76 Harper Trace off Weston Trace which will be repaired (today) Friday 11th February 2022. The route is in need of repairs due, largely , the constant movement of the land which has led to its degradation.