Abdallah calls for a 'windfall' tax on energy majors | Local company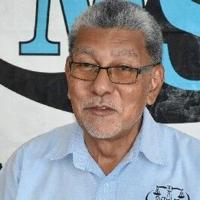 The Social Justice Movement (SMJ) David Abdulah is again calling on the government to introduce a wealth tax on energy companies operating in T&T, to address the growing inequalities in the country.
In a press release, Abdulah said yesterday that in April the SYM suggested the government consider implementing such a measure on multinational energy companies and large local businesses.
However, it was reported to the head of the MSJ, by the Express Business Desk, that in the 2017 budget, the Minister of Finance, Colm Imbert, introduced a new tax bracket of 30%, which applies to individuals earning over $1 million and businesses with profits over $1 million. People in T&T earning less than $1 million a year pay 25% of their taxable income in Pay As You Earn (PAYE).
It was also pointed out that oil companies pay the Supplemental Petroleum Tax (SPT) on crude above US$60 a barrel.
Abdulah responded by saying that while he was aware of the wealth taxes already imposed, the energy giants don't produce much oil, only condensate, so the TPS doesn't really have an impact. on their tax payments.
"The energy giants are first and foremost gas producers and there is no tax regime equivalent to the SPT for natural gas. The Minister of Finance himself has raised in several budget speeches the fact that the country loses billions of dollars every year because gas producers are also involved downstream in LNG and engage in tax evasion. by transfer pricing," Abdulah said.
He said it is totally unfair that multinational energy companies like BP and Shell, which operate here, advertise huge windfall profits, but local consumers pay more for fuel. That's why these companies can and should pay more, Abdulah explained.
"Just like energy companies in ammonia and methanol, where product prices have risen dramatically over the past year. It's not fair for the national pie share to rise significantly for a while so that for the majority, their share is stagnating at best and shrinking at worst. For those who haven't had a raise in almost 10 years, their slice of the pie has shrunk," he said.
Abdulah said implementing a wealth tax is a way for the government to increase its revenue and thus have the resources to make a fair wage offer to all public sector unions.
"It's not just about fundraising, it's fundamentally about fairness. We cannot build a peaceful nation without economic and social justice," the political leader said in his statement.
Underlying issues
Giving her perspective on the matter, economist Dr Indera Sagewan told the Express yesterday that while she fully appreciates the reasoning behind Abdulah's windfall tax proposal, in her view , this is just kind of a quick fix and does not fix the problem. underlying issues.
Sagewan said the underlying issues need to be addressed to find a lasting solution to the lack of growth and employment opportunities, financial constraints to provide much needed wage increases to these categories of people.
"Let's not forget that these same energy companies also went through very tough times of gas cuts, low commodity prices, and so they are entitled to the windfall that they are now realizing," Sagewan said.
Furthermore, Sagewan said it was also unfair that food and pharmaceutical retailers have increased their profits thanks to a pandemic and now war.
"But it's still because of bad government. Why not raise import taxes on luxury and staple substitutes for locally grown and produced foods, making it prohibitively expensive to import avocados and mangoes? , etc? That alone would boost local production. The bottom line is that we embrace the quick fixes, we need sustainable and practical initiatives to promote growth beyond oil and gas, and we need them quickly," she said.